Description
Features
1. Hight Compatibility

Desk Overhead Camera Mount Stand have standard 1/4 screw can be mounted for the most cameras, light, and webcams which have a 1/4" adapter. Microphone Arm Stand also has 5/8 and 3/8 connector compatible with almost all microphones like Blue Yeti, Blue Snowball, AT2020, AT2020USB+, AT2035, ATR2500-USB, ATR2100-USB, etc. 
Comes with phone grip, compatible with devices from 3.5 to 6.5 inches, such as iPhone 13 / Pro / Mini / iPhone 11/11 Pro/11 /XS/XS Max/XR/X/8/8P/7/7P, Google Nexus, Samsung S10/S9/S8/Note 10 etc.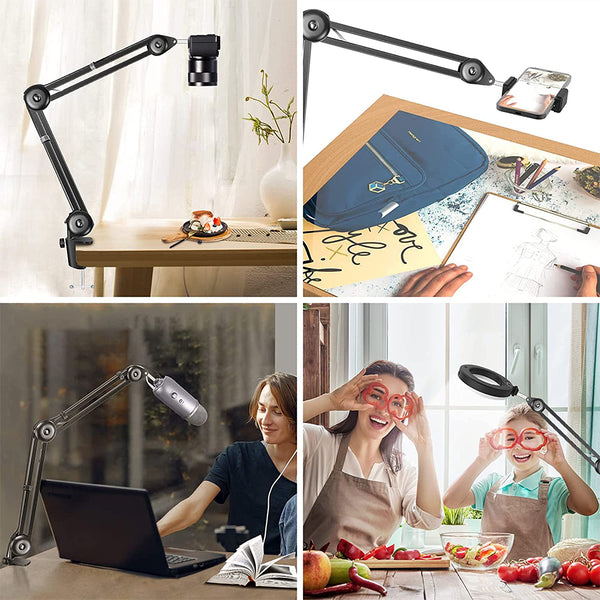 2. 360° Rotation & 

Flexible Arm Stand
VIJIM camera stand is fully adjustable in 135° back and forth, and 200° up and down. You can set the perfect angle for podcasting and live streaming easily and pull it out of sight when it stands idle. It is both convenient for use and space-saving for storage.
3.

Built-in Springs and Improved Load-bearing Boom Arm

VIJIM camera stand is upgraded with extended steel structure, which increases the loading capacity and fully protects the spring compared to other camera stands on the market that have knobs getting in the way and causing spring deformed when they are folded. Freeing you the concern of causing the spring deformed and loss of elacisity. 
4. Lightweight But Heavy Duty
Double-braced arms add strength to stand much more weight, the extra-strong spring prevents the microphone from accidental dropping, noise generation and shaking. The stand itself weighs only 2.2 lb(1kg) but can bear almost 4.4 lb(2kg) compared to the loading capacity 2.2 lb(1kg) of other mic stands on the market. The improved load-bearing makes it strong enough to support heavy mics/camera.
5. Protect Eyesight & Reduce Neck Strain
This Phone Stand lazy phone holder, keep your phone at appropriate distance from your eyes. And also ergonomically correct wrong posture while looking at the phone.extremely good for health.

When you are chatting

Free your hands and provide you best experiences in using cell phones to watch video, play game, facetime, live stream, read and more.
Enjoying leisure time
Perfect for enjoying videos, free your hands from tiredness, especially when eating.
Video recording when cooking
Great for learning cooking through video teaching, without worrying about soiling the tablet or smart phones.
6. Easy to Install & Use 
Desk overhead phone mount video stand is widely use in different applications like overhead video shots, make great baking crafting demo videos, live stream, online lesson, YouTube videos, cooking video, videography, photography, vlogging, video shooting; A necessory camera gear for YouTubers, Creators, Filmmakers. It's easy to attach on furniture such as table and bookshelf. The foam pads protect your tablet against damage at all points of contact and prevent slipping of the tablet inside the holder.